NYC's Top 5 Spots for Year-Round Outdoor Romance
With the last dregs of half-price candy fast vanishing from drugstore shelves, it's time to kiss another Valentine's Day goodbye. Though this year's ankle-deep puddles of melted snow and oil-stained sludge rendered New York's usual outdoor haunts less than romantic, the city boasts a more than ample share of outdoor treasures off the beaten Central Park path, many of which can sustain year-round romance in rain, snow, or shine.
For a breather from the city, head uptown to The Cloisters and step back five or six centuries in time. Built from disassembled European abbeys reconstructed on a New York hilltop overlooking the Hudson River, The Cloisters house an extensive collection of art and artifacts from medieval Europe. In winter, spend a day wandering the vaulted museum space with your special someone, but in summer, get outside to enjoy a romantic stroll in the gardens, all of which are planted according to horticultural information found in medieval manuscripts.
You know the Brooklyn Heights Promenade from such cinematic love letters to New York as Annie Hall and Moonstruck, but its relative celebrity aside, it might just be the best view of Manhattan available from outside Manhattan. The Promenade stretches a third of a mile along the East River shoreline, and while it's admittedly more desirable in temperate months when the flowerbeds and playgrounds can be fully appreciated, there's something to be said for a brisk nighttime stroll with a front-row view of the snow-capped Manhattan skyline.
For those looking to get outside as a couple without losing New York's gritty industrial charm, the High Line is an obvious choice. Built on almost a mile of rehabilitated railroad track elevated above Chelsea, the wooden floorboards are lined with flowerbeds seeded into the metal tracks. In warmer months, grab a free bloom map and identify the flowers as you go, and though winter won't share that same foliage-based charm, you can still enjoy a nighttime stroll on the snowy track gazing into the windows of buildings you've only ever seen from ground level.
South Street Seaport is an unconventional choice, perhaps, but one rife with diverse opportunities for every season. In summer, enjoy the Seaport Music Festival and guided tours of the antique schooners; in autumn, hit the preserved cobblestone sector of Fulton Street hemmed in with shops, bars, and restaurants; in winter, devote a day to the extensive maritime museum; and in spring, cap it off with a romantic walk along the shoreline. If the faint fishmonger smell isn't distasteful to you, South Street Seaport makes for a stimulating port in any seasonal storm.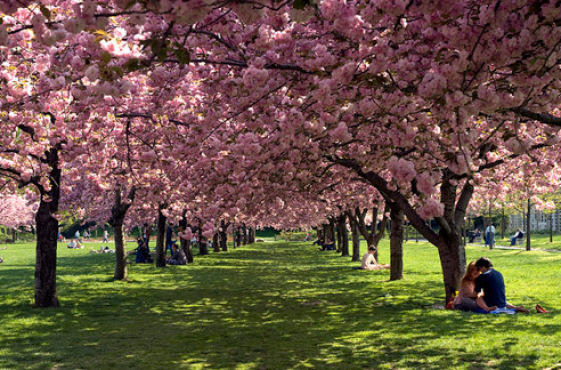 Central Park undoubtedly has its charms, but for those looking to explore other boroughs, the Brooklyn Botanical Gardens offer a refreshingly different aesthetic in a similarly sprawling environment. In spring, enjoy the cherry blossom festival with a picnic in the cherry tree esplanade (it's the only place in the park where sitting on the ground is permitted); in summer, enjoy the chile pepper festival; in autumn, celebrate Halloween together in the garden's pumpkin patch and haunted house; and in winter, tote a tobaggan for an afternoon of snowy fun.
Whatever the weather, no matter the season, New York City is filled with romantic corners and promenades that are sure to make your sweetheart swoon.